The 176th Manchester derby in April may have gone down as one of the all classics to live long in the memory as the Reds completed a never-to-be-forgotten, climb off the canavs victory to ruin City's coronation day.
Seven months on, and its immediate successor is one we'd all rather forget as quickly as possible. United were one of only two sides to get the better of Pep Guardiola's side as they stormed to a record smashing 100-point title. The mob from across the city once again threw down the gauntlet and showed that they are going to take some stopping. United were bereft of the injured Paul Pogba with Marouane Fellaini, Nemanja Matic and Ander Herrera reduced to rubble as City's slickers took control as early as the 12th minute - a control that they were never to relinquish.
This was one of the most one-sided derbies in recent memory - even the infamous 6-1 in 2011 at Old Trafford was not as bad as this. On that day, United created chances right up until the closing stages when a ruthless, rampant City inflicted maximum punishment against ten men. This could quite easily have offered up a repeat - whilst the Reds effort and determination cannot be faulted, and all the players tried their best and gave 100%, City were far too good.
In many ways, there's no shame in losing to this side - a side who continue to make the Premier League look easy, a side who can toy with you and leave you chasing shadows before striking at any moment. That's what this team can do under Guardiola, and they came into this game having put six past Southampton and Shakhtar. But United struggled to even make it difficult for them. Looking at the starting link up before the game and you felt a sense of foreboding even before the kick off. A team of slickers versus a team of slackers. Without Paul Pogba, there was no creativity, no movement, no pace and no pressing. We never had a hope. At the back, it's baffling that Chris Smalling - a man that continues to hit new levels of haplessness week in week out - kept his place. Eric Bailly has his flaws but he is a better defender than Smalling in every way, yet the Ivorian is jettisoned after one bad game. Smalling has been poor all season but still keeps his place. It just does not make sense. Same goes for Nemanja Matic - more on him later.
The tie between the Manchester clubs was full of contrasts.
The smallest team in the division took on the tallest. The arch proponent of progressive passing and pressing football, Pep Guardiola, versus its very antithesis, Jose Mourinho, a coach who considers possession of the ball to be more of a threat to his own team than his opponents. Mourinho craves control by containment, Guardiola demands complete superiority by denying the opponent the ball and smothering them when they do get it.
The contrast between the two sides was summed-up by their respective midfield trios. The match was won and lost here and the two coaches' respective views on the game were embodied by these players.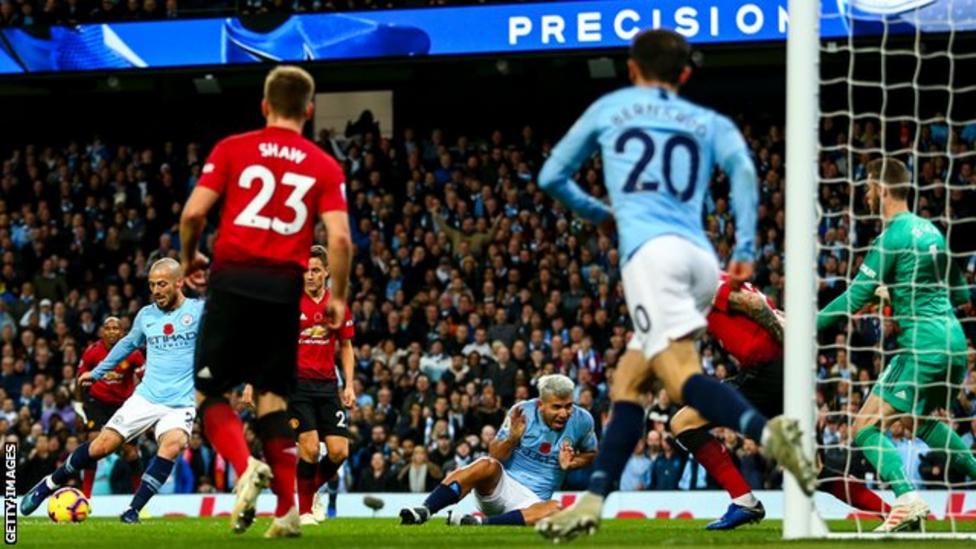 United opted for three plodders - Fellaini, Matic and Ander Herrera. Fellaini was our man of the match, but Matic and Herrera were sluggish, off the pace and ineffective. Neither had a hope of even laying a glove on their diminiutive but dynamic counterparts, with David Silva the conductor of an orchestral symphony alongside his namesake Bernardo and the under-rated but no less important Fernandinho. There was only ever one winner there. Matic's usefulness as a central midfielder, like Mourinho's reactive tactics, has arguably been bypassed at this level of the game.
Again, like Smalling, how he continues to keep his place is beyond me.
During Mourinho's peak-years as a coach, central midfield was the land of the giants. Physicality reigned supreme until Spain and then Guardiola's Barcelona turned football on its head between 2008 and 2012.
Players like Matic are arguably obsolete when there are smaller, skilful, creative midfielders who can control the game, create chances and win the ball back as effectively as a giant like Matic or Fellaini.
Mourinho is still using a Nokia 3310 while Pep has long moved onto a sleek multi-functional smartphone.
Matic is arguably the embodiment of Mourinho's rigid style of play, a lumbering presence who brings very little craft to proceedings. The gulf in class between the Serbian and City's trio of midfield magicians was almost uncomfortable to watch at times. As for how us Reds are feeling, watching this City team batter and brutalise all comers into submission must have been how the rest of the league felt watching Sir Alex's United at the peak of their considerable powers.
Even at 2-1, when Anthony Martial had given us hope of yet another unlikely rescue mission, City did not yield. Instead, they looked more threatening at that point than at any other time in an already one-sided contest. Ilkay Gundogan's goal was synonymous of the clear gulf in class between the sides - a gulf in class than runs deep throughout both clubs from the pitch to the dugout and via the board room.
When Messrs Pep and Jose arrived in Manchester, it was supposed to spark the sequel to a compelling managerial rivalry between the two men. Instead, like City versus United, Guardiola versus Mourinho is proving to be a mismatch.