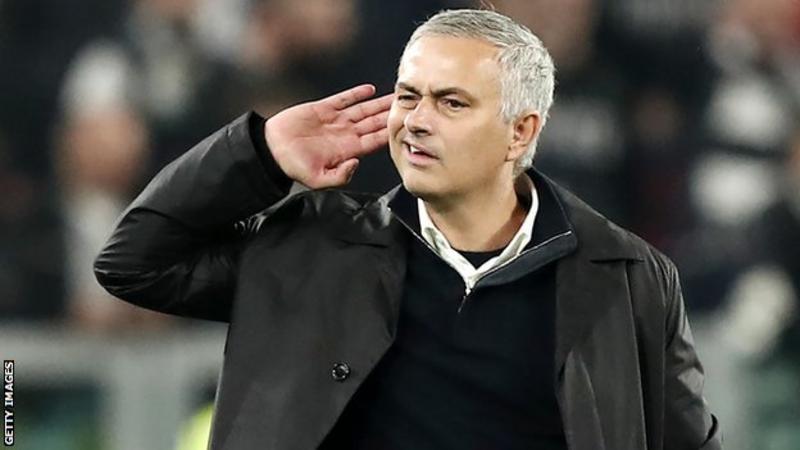 After three years of moans, negativity, tantrums and turmoil, the real Jose Mourinho has stood up to be counted. The saying often goes that teams should be an on pitch identikit of their manager, and that's true when it comes to this Manchester United side.
Which United will we see on Sunday - the team that can still strike the fear of God into the most mighty of opponents - the team with the courageous, never say die attitude - or the jumbled ragtag of broken bits and pieces that we saw collapse under the slightest pressure earlier this season.
More pertinently, which Mourinho will come to the fore. The mischief-making, soundbite-spouting Special One with a neat line in wind-up celebrations and a regular standing order to football's authorities?
Or the one we saw for much of a stodgy opening to Manchester United's season - a surly Mourinho apparently picking fights with his own players and club.
Much as there has been a seismic shift in momentum and belief in recent weeks, so has there be a notable change in Mourinho. He's recently resembles the Mourinho that everyone fell in love with when he first arrived in England - the raw, visceral, me-against-the-world manager with the CV, record and huge personality and ego befitting of only the best. The mojo that made the Special One special does, indeed, appear to have returned.
Mourinho's facial expressions and gestures have often been the stuff of dreams for gif-lovers, meme makers, and those who just like poking a bit of fun.
He was at it again on Wednesday - cupping an ear to the Juventus fans and infuriating defender Leonardo Bonucci in the process.
It's not the first time this season the Portuguese has made his feelings known to rival supporters.
Cast your mind back to October's 2-2 draw with Chelsea - a game memorable in the wonderful world of Jose for more than one reason (but more on that later).
Mourinho wasn't best pleased at being taunted by home fans throughout the game. His response? Raising three fingers - one for every Premier League title he won with the Blues - in their direction after the final whistle.
From losing four games in all competitions across August and September, United have been beaten just once in October and November.
Now Mourinho is pacing the touchline, shouting instructions to his players, and even getting involved in scrapes with opposition coaches. It's exactly what I want to see from a Manchester United manager. This is exactly why he was my choice to become Sir Alex's immediate successor at United. There always seemed a sense of destiny that Mourinho would end up at Old Trafford. Taking on entire crowds with his wind-up celebrations, showing passion, living life through the sharp end of a lens, catching the eye of the football powers that be and eve being funny again - the old Jose is alive and well.
Most would keep their mouths shut but Mourinho wasn't afraid to make a dig at the FA in a post-match interview after Wednesday's win over Juventus.
When questioned by a reporter about his celebration, he replied: 'Do you speak Italian?' When the interviewer answered 'no' he told her to ask the FA as "they would translate".
But that wasn't all. He then burst into a laugh the kind of which you can't help but respond to in exactly the same way.
Mourinho is once again looking sharp. He's got a smile on his face (sometimes) and things are starting to look up for United.
All it needs now is for him to re-establish a bitter feud with a rival manager, like the Wenger years,
Pep Guardiola and the Manchester derby anyone?