Manchester United's seemingly irreversible backward slump continued apace as the Eagles came to Old Trafford and could count themselves unlucky not to fly off with the points. I'm fed up of this, I can't take it anymore and I've completely had enough. At home to a Crystal Palace side who look set to be in the thick of a battle for survival, it was a familar pattern. A stuttering, laboured, plodding, modern day mediocrity assembled at exorbiant cost but with absolutely no idea whatsoever. We don't demand to win the league every season - we don't even ask or expect to win every game. What we do want is to have a team that plays better football, a team that plays without inhibitions and a team that does not get outplayed in six out of nine games at home. At a ground where opponents used to be beaten before they even ran out the tunnel, Palace were the latest in a long line of visitors to come here and consider themselves unlucky not to have won. Battered by Spurs and Juve, held by Wolves, Valencia and Palace before we even consider that Carabao Cup KO at the hands of Derby. Any team that can keep the ball moving for more than a minute will hurt us because this side simply cannot - or will not - do it. Not having the quality is one thing, not even managing to do the basics is quite another.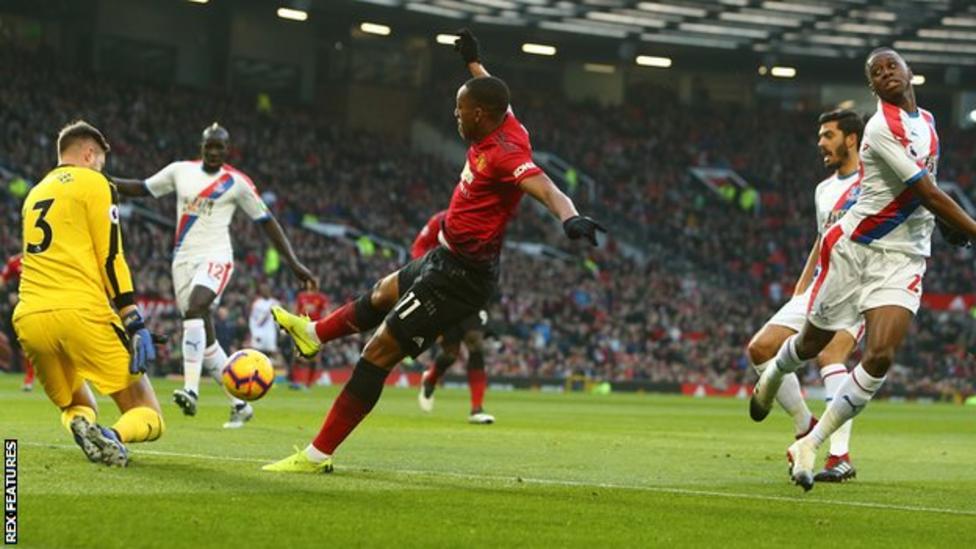 I'm not coming on here to rant - I'll be wasting my time, what's the point - we've seen it so many times before. It's got to the point where I'm not even surprised any more. This could have been any Manchester United performance from the past ten years. Cross, shot, hopeful hoof up to Marouane Fellaini. Repeat ad naseaum. No cohesion, no tempo, no movement, no discernible pattern or identity. Players taking an age to deliver the ball - which is invariably the wrong one - and permanently looking slow and sluggish.
There's an old saying that the definition of insanity is doing the same thing over and over and over again and expecting a different result. It's a well worn phrase that almost seems to have been invented for this particular period in our club's illustrious history.
It wasn't until the 70th minute that this pathetic excuse of a so called Manchester United side coughed and spluttered into life. By then, most inside Old Trafford needed life support. If anything can sum up this miserably depressing season, then it was the sight of Matteo Darmian and the equally as useless Ashley Young trying - and failing - to complete a simple cross. You feared more for the Saturday afternoon pleasure boat users on the adjacent Bridgwater Canal than you did for Wayne Hennessey and his Crystal Palace backline. Why did we even bother buying Diogo Dalot when a proper full-back who actually has pace and can whip a ball in can't get in an awful side ahead of a garbage Italian who must rank as one of the worst signings in United history? Nemanja Matic was again picked ahead of Fred (or anyone else who can actually pass the ball for that matter), despite his seemingly permanent slump in form. A defence that can't defend, a midfield that can't pass, create or indeed do anything remotely useful, and in Lukaku, a £75m striker whom cannot score. Welcome to Manchester United in 2018.
Against a hard working but limited Palace side - one which will likely be embroiled in a battle for survival - we could have played until Christmas and got nowhere. Marouane Fellaini came on as Plan B yet again and pushed up front alongside the once again ineffective figure of Romelu Lukaku. Both were simply waiting for crosses that never came.
This was reminiscent of the infamous David Moyes era game against Fulham in February 2014 - the game of 81 crosses. There were two survivors from that game out there today - Chris Smalling and Ashley Young. Both are absolutely useless. Young attempted eleven crosses against Palace. None found their intended target. Yet he continues as a mainstay of the Manchester United defence when he wouldn't even be first choice for Palace. Same goes for Smalling. It's a damning epitome of this side's collective struggles.
The man in the dugout might be of different repute from that fateful day, but it certainly feels like we're back there again. It wasn't supposed to be like this but in many ways it should come as no surprise.