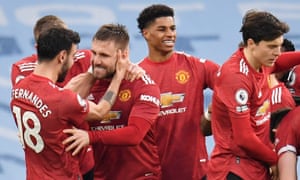 Perhaps, given what had gone before, Manchester United were always destined to prevail in the 185th Manchester derby.
That may sound a strange statement to make, given the fact City came into the game with a 14-point chasm at the top of the Premier League and on a mammoth 21-game winning streak whilst United had faded from contention after stumbling fatally with dropped points against Sheffield United, West Brom, Everton and Palace.
You see, Manchester United are at their best when their backs are firmly against the wall. After Mr Hyde had made one too many appearances of late, it was time for Dr Jekyll to make his entrance. And where better to do that than at the home of the soon-to-be-Premier League champions. The Etihad often brings out the best in Ole Gunnar Solskjaer and his merry band of men, and this time - even in the face of our all-conquering neighbours - it would be no different. For as many fans who thought a pasting at the hands of City was in the offing, somewhere deep within you was a feeling that this Reds side would stand up and be counted. This United side has an astounding tendency to randomly pull out the most monumental of results when you least expect it.
Something had to give: City's 21 match winning run against United's own 21-match unbeaten away record as irresistible force met immovable object. In the end, the result was never really in doubt and, in fact, it could and should have been even worse for the team from across the city. City's magnificent run of wins simply couldn't have gone on for ever - how sweet it was that it should be us to bring their rampaging juggernaut to a grinding and spectacular halt. Not since the 21st November and a 0-2 defeat at the hands of his old adversary Jose Mourinho had anyone got close enough to lay a glove on Guardiola and his side. Perhaps there was a certain sense of symmetry and deja vu that Solskjaer's United would finally be the team to do it. Some things are just meant to be.
Having failed to score in over 400 minutes after a hat-trick of 0-0 draws, and given our penchant for scoreless stalemates against the top six, there was even some pre-match talk that United would do something not seen since 1992 and play out a fourth consecutive goalless game. Ironically, on this occasion, it would have been a result that many of us would have settled for.
It took only 101 seconds for such a possibility to be eviscerated as Bruno Fernandes slotted home his spot-kick to give United a lead we would ultimately never relinquish. In so doing, not only did the Reds end their own personal drought against the Premier League's leading lights, but Fernandes himself busted the myth that he is incapable of doing so.
An early goal was the perfect start - it allowed United to set their stall out and put City into the almost unprecedented position of being forced to chase the game, giving United space to counter-attack in behind them. Our raison d'etre of caution, Solskjaer's safety first identikit in these big games, had gone out the window and been blown to pieces within the first minute. We did not go to City to sign our own death warrant and simply sit back. One of the greatest edges in a managerial armoury is the element of surprise and City's slickers were certainly caught cold by the Reds rapid start.
Yet it was clear we would always need a second goal - you haven't a hope of holding a 1-0 lead for 88 minutes against a side with a death by a thousand passes mantra and a team who can cut even the most miserly of defences to shred in seconds.
The second 45 minutes felt like 45,000 hours - usually our matches fly by but this one feels as if it's in snail time - even when Luke Shaw duly obliged to put clear daylight between ourselves and our nearest and dearest, it felt like there was still an eternity to go. Only when the match entered its dying embers deep into stoppage did I finally feel confident our team would finally get over the finish line - as good as we had been, here we had a magnificent football team, one which can put you to the sword in the blink of an eye.
I hate the derby as much as I love it - not the actual match itself, but everything that goes with it. The build-up always feels different, you get that knotted stomach and a sense of "us against them" that no other game can bring. The derby is about bragging rights, local pride and the chance to claim the city as your own. There's nothing like a cross-town punch up to stir the senses, get the juices flowing and conjure emotions no other game can.
Liverpool is always the game us United fans want to win, but there's nothing quite like winning a Manchester derby. Victory is always special, defeat always that little bit more crushing. This one felt distinctly low-key. Perhaps it's because of the situation with City miles clear at the top and safe in the knowledge that even this defeat won't derail their progress to the title. Perhaps it was because of United's untimely dip in recent weeks, putting paid to any hopes of #21iscoming. Or perhaps it was the appropriately sterile environment of this Covid era and an entire season behind closed doors that meant I had no fellow Reds to revel in and share the moment with - just my old man in the front room at home for company. There was just something amiss on this particular derby day, a match that is always looked for first when the fixtures come out. It was in stark contrast to when these two sides had met at Old Trafford a year ago exactly to the day. None of us knew it at the time, but it would be the last time United would play in front of fans before the UK went into lockdown. The Reds secured a memorable derby double courtesy of THAT Scott McTominay stunner in stoppage time as Old Trafford's capacity crowd erupted into ecstasy as the Lancaster born Scot put the local rivals to bed. It only added to the feeling of melancholy this time around.
But yet despite this most fabulous of victories against the odds, there remains a maddening case of 'what if'. What if, indeed, we had beaten Sheffield, Everton, West Brom and Palace. Imagine where we'd be now had we done so...