When United suffered the ignominy of back-to-back defeats by Brighton and Tottenham at the end of August, Jose Mourinho was a man under siege. The knives were out for the manager, and all sorts of questions were being asked about both him and the team. The curse of Mourinho's third-season syndrome looked to have reared its ugly head once more - the phase in the manager's glittering career that inevitably ends in his acrimonious departure after a long and protracted goodbye.
With Ander Herrera in a banter back three alongside Chris Smalling and Phil Jones against Spurs, the manner - as well as the margin of the result - only increased the feeling of discontent around Old Trafford after an unsatisfactory summer. On that painful night, a top six rival came to our own backyard and inflicted Mourinho's heaviest ever home defeat on a disjointed, desperate and discombobulated United side.
Crisis, what crisis? Jose seemed a man on the very brink of meltdown that night, but - less than a month on - life now appears much rosier in the Old Trafford garden. Of course, it's clear there are still huge problems at boardroom level but all the time the team are winning those issues with the hierarchy can be put to one side. The problems that looked to have engulfed the club feel like a long time ago now - we've got momentum and have responded to those successive defeats with a run of three consecutive wins, all away from home against Burnley, Watford and Young Boys - keeping two clean sheets in the process.
Some may say its long overdue, but Jose's United finally seem to be playing with a system, a plan and a pattern, the manager has hit upon a formation that works and has struck a balance with a starting XI that is not far off what you would consider his best. There have been signs of wonderful attacking play, Jose has showed that he is still a man that can change his ways and the turnaround has even brought about the return of an old terrace favourite. Even against Tottenham, despite the 0-3 scoreline, United were brilliant in patches during the first half. Controlled and comfortable in midfield, strong from set-pieces at both end of the field and lethal on the counter-attack, there is a clear identity to our game at present that has been conspicous by its absence for too long now. There's a structural difference, an altered angle of approach. Not only that, but he's also making a concerted, belated effort to strike a connection with our fanbase, having pointedly and deliberately stayed behind to applaud section of our support in the defeat to Tottenham and win over Burnley.
The song, that has not been heard since the halycon days of last August when 4-0 win followed 4-0 win, features the line: "Jose playing the way that United should" and there have tantalising glimpses that we are. For 20 minutes against Watford, we were given a glimpse of what might be possible.
The scintillating spell before half-time that saw Watford's defence torn to shreds by the pace and power of United's frontline was a timely reminder that, despite the much-criticised start to the season, he has an attack with frightening potential. Against Young Boys, with Diogo Dalot and Luke Shaw leading the charge on the flanks, two of United's three goals came from devastating break aways down the left-hand side.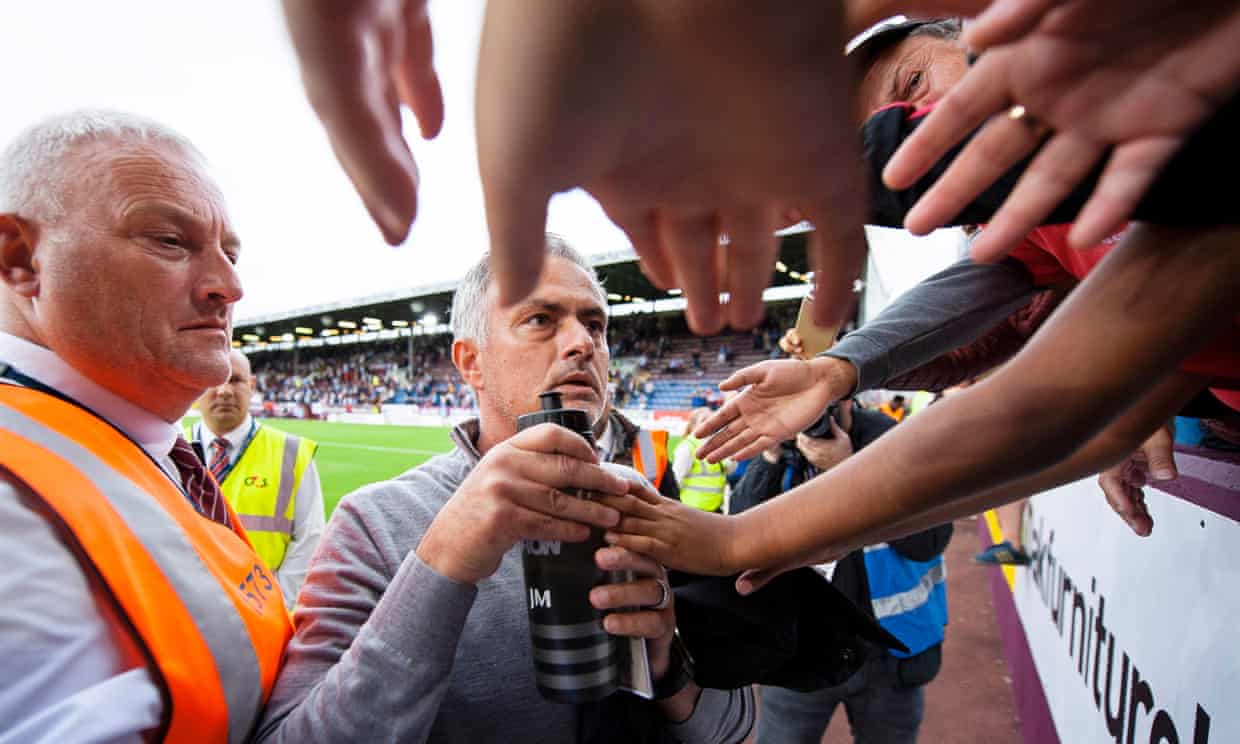 To his credit, and however awkwardly, Mourinho is making efforts to unite his base, to create a winning spirit, to re-forge those bonds. Best of all this coincided at Burnley to Bern, via Hertfordshire, and for half a game against Tottenham, with a more José-looking team, a return to the pared-down, hard-running football of his best XIs. Two years ago, Chelsea won the league with the intervention of the season's first international break that allowed Antonio Conte breathing space to reconfigure his side to devastating effect after an indifferent start to the season. It may be too much to expect history to repeat itself here, but at least there is some hope, whatever the outcome of this third season, that Mourinho will not leave United without ever having really wrestled this team into something resembling one of his own. For all the talk of Mourinho's infamous third-season syndrome, the signs are there that he's changing his ways and turning our fortunes around.