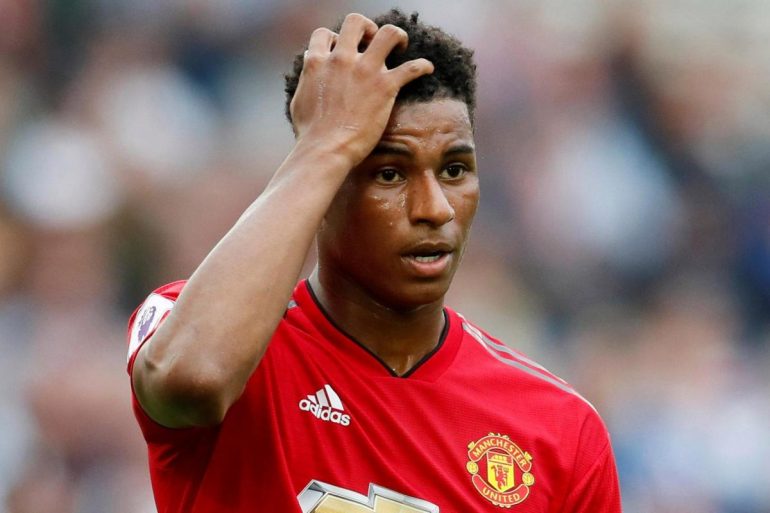 Jose Mourinho's handling of his Manchester United players is never far from the lips and keyboards of seemingly everyone who has the vaguest footballing knowledge. Regardless of who supports which team, or who writes for which paper, everyone is keen to give their two penny's worth and jump on the bandwagon. Because that is the easy thing to do, right? Add more fuel to the fire that Mourinho is washed up, outdated and his management style is a thing of the past.
During his United tenure, in its third instalment now, multiple players have been subject to the intense debate: Henrikh Mkhitaryan, Luke Shaw, Anthony Martial, Eric Bailly, Victor Lindelof, hell all the centre-backs and, most notably, Paul Pogba have all faced questions over how the Portuguese handles them.
In the next plot of the series, Marcus Rashford is the latest to face similar questions.
Fresh from two goals in as many games on international duty, many were quick to draw conclusions that the Mourinho bully/talent destroyer theories have more than a semblance of truth to them. The arguments have been flooding in – Southgate is maximising the potential yet to be found by Mourinho, Rashford needs to be tried more centrally and, most bizarrely, Rashford has to leave United to realise his potential.
Of course, Rashford's cause has not been helped as he chose to react to Phil Bardsley's wild lash out and confrontation, leading to a three game ban effective from this weekend. This supposedly stemmed from an inauspicious start to the season and lack of game time.
Let me ask you this, does Marcus Rashford, a grounded, humble, local lad strike you as a man irreparably disillusioned with his 'situation' at United? I'm sure your answer would be emphatic in the negative.
Just how catastrophic is this so-called 'situation' in that he has been the player Mourinho has turned to the most of his time at United?
Just how catastrophic is this so-called 'situation' that Rashford is still a mere 20 years old with the world still at his feet, despite already clocking over 100 appearances and 30 goals for United?
Shortened memories are a classic symptom of football living in the here and present, but remember the times Ferguson had to juggle two lots of world-class striker quartets in Cole, Yorke, Sheringham, Solskjaer and Rooney, Ronaldo, Berbatov and Tevez? If those are two of the most painstaking headaches to remedy in possibly footballing history, how much of a hardship is biding your time and learning from the likes of Lukaku and Sanchez and vying with best mate Lingard and equal wunderkind in Martial?
Every squad has a dilemma of this kind year in year out- you don't hear Arsenal creating rumblings because one of Aubameyang or Lacazette play out wide, Gabriel Jesus having to leave City when Aguero starts as the sole striker and the boat isn't exactly rocked at Chelsea, where Olivier Giroud has to be content with a role on the bench.
Top teams require strength in depth and Rashford's time will undoubtedly come this season and in the years to come.
All this talk needs to quieten down a bit, yes I'm referring to the ex-Scouse pot stirrers Redknapp, Carragher, Souness, Bellamy, Thompson! Notice how no former United players believe Rashford should be agitating for a move anytime soon. That speaks volumes.
I'm not concerned one iota about Rashford leaving United – building on Thompson's staggeringly nonsensical claim that Mourinho doesn't trust Rashford, I refer you back to the fact that no player has figured more than the boy wonder. That is trust. Players Mourinho didn't trust or fancy? We are talking Schneiderlin, Memphis to name a couple. The reality is once Mourinho doesn't trust a player they are out of the door.
Gareth Southgate has moved to further extinguish any lingering concern from United's perspective by declaring, in quotes featured on Sky Sports, that Mourinho actually 'thinks the world' of Rashford.
Yes, Mourinho called him 'naïve' after his confrontation with Bardsley. The fact of the matter is that indeed he was. You should know, as a player especially if you make any sort of contact with your head, it should be a red card. No doubt many will have seen the interview and criticised Mourinho for calling him out in public, but the comments were hardly inflammatory and the player should know the gravity of his actions to refrain from any reaction.
That will not change the reality that Rashford remains an integral part of Mourinho's plans and, as an academy graduate, he has no intention of pushing for a move away. Why would he? After all, he's living the dream we all had as a kid.
Jesse Lingard, his brother in arms, made a worthy point on social media on Rashford's account after his moment of madness, it's all part of the learning process. Rashford will surely learn from the events at Turf Moor and come back stronger for it. It did appear to just be a momentary meltdown from a man so normally mild-mannered.
Don't let that blemish sway your opinions on Rashford…
Get behind him, like we are famed for and help him realise his potential.
Like Manchester, Rashford is red.