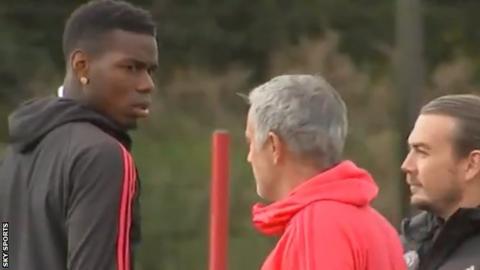 It's the story from which there can be no escape. Whether you're a Manchester United fan or not, the tense, tightrope tug of war between manager Jose Mourinho and star man Paul Pogba is all over the papers and the talk of the town at every turn. It's the dominant topic of fans up and down the country as the two men stubbornly lock horns in an egotistical battle of wits. Manchester United need both to show what they're made of, to ride to our rescue amidst the wreckage of a rapidly nosediving season, but instead it's become a circus, a soap opera, a drama in which the two main characters are trying to get the better of each other. The situation has become so desperate that there's been talk of a divide in the United dressing room, with some of the squad's younger members siding with Pogba and others firmly behind the stance adopted by Mourinho. At times like this, we need everyone pulling together, we need to be United more than we have ever been - board, manager, coaches, players and just about anyone of a Red perusasion. Instead, there's a destructive fault line running right through the core of Manchester United and the club feels more divided than ever. This is a club built on unity. The clue may even be in our name.
In the last few days, United have been knocked out of the Carabao Cup on penalties to Frank Lampard's Championship Derby County, Pogba has been stripped of the vice captaincy for publicly criticising his boss, and their tense stand off is no nearer to being resolved. The entire Old Trafford facade is crumbling before our eyes and no one seems accountable to anyone anymore.
So where do I stand on the issue? I may not agree with everything Jose says or does, but I'm firmly behind him and with him all the way on this. Whether Pogba's comments after the Wolves tie were right, wrong, or somewhere in between, it's the manner in which he said it that's the problem - you simply cannot criticise your manager in public. In what other industry in any other walk of life is it acceptable to undermine your boss with the world a witness - the moment you do that, you're questioning his authority, and in doing so Pogba clearly thinks he's bigger than Mourinho and therefore, the club.
Stripping Pogba of the vice - captaincy was absolutely the right thing to do, it was Jose's way of attempting to wrestle back a modicum of control and, in this era where player power can and has brought down managers - including Mourinho - control is one thing that can't be relinquished.
Sir Alex Ferguson, of course, was no stranger to player bust ups - from Paul McGrath to Ruud van Nistelrooy via Beckham, Keane and Ince to name but five. But, whenever tensions did run high and things spilled over, he made damned sure that the situation didn't linger, didn't affect the dynamic in the team and absolutely always made sure that the argument never infilitrated into the prying eyes of the public beyond the four walls of Carrington or Old Trafford. Roy Keane left the club after a bitter argument with Ferguson when he tried to undermine him, but it was dealt with professionally and privately.
Where's Ed Woodward in all this - the United CEO is keeping an unusually low profile as his two star assets do battle. Woodward may feel it would be a conflict of his interests to get involved in the feud, but you get the feeling that surely he would back Mourinho if it came to the crunch and he had to decide between the two. Pogba is huge commercially for the club but it would be a slippery slope and a very dangerous precedent to set if the club's hierarchy vouch for player ahead of manager - that really would prove that player power is stronger than ever.