United were left reeling and gasping for air after a first half in which they were relentlessly punished and brow beaten by a clinical City side. Pep Guardiola's men had the smell of revenge in their nostrils and were in no mood for sympathy against their weakened neighbours.
Marcus Rashford grabbed what's surely only a consolation in the second half, but it's a long way back for the Reds in this League Cup semi final on a sobering Old Trafford night.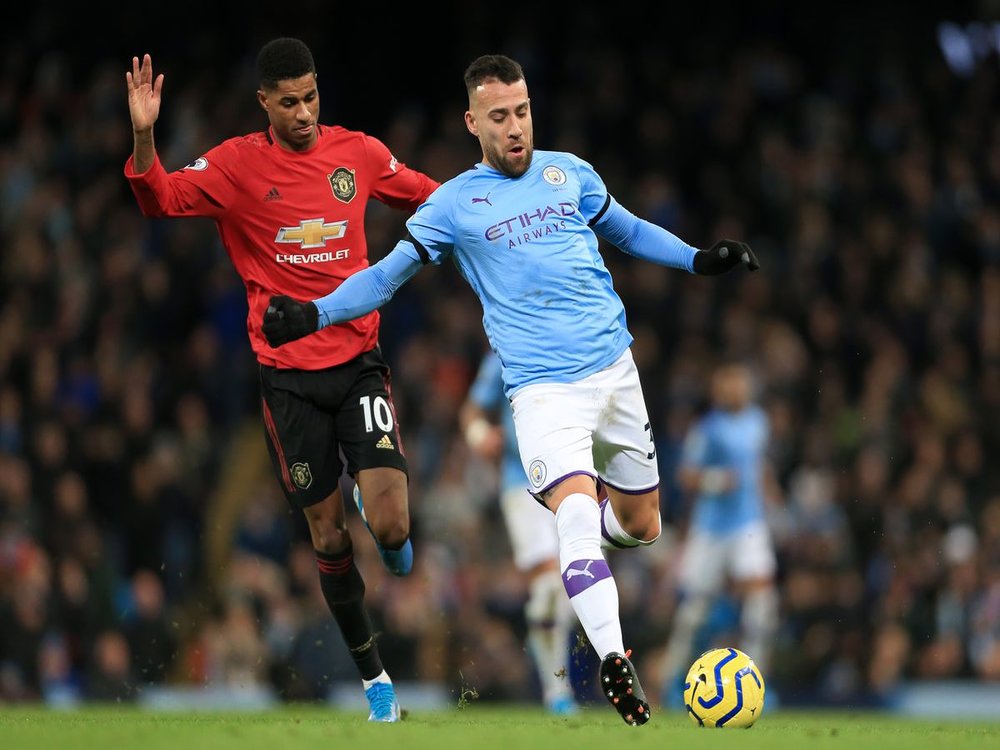 Ole Gunnar Solskjaer would have hoped that United could at least keep City at arm's length and close enough to render the second half more than simply a glorified friendly. Whilst United aren't quite completely dead and buried, it takes a huge leap of the imagination to see anything other than a third successive final for the men from across the city. United were mercilessly ripped to pieces in the first half as to surely strongly reignite fresh speculation about Solskjaer's ability to successfully oversee this latest state of flux at Old Trafford.
Injuries and recalls forced a number of changes to this ill-equipped, inadequate Manchester United side, but the vulnerability of this team was not Solskjaer's doing. Harry Maguire failed to make it, and joined Scott McTominay and Paul Pogba on the treatment table. Anthony Martial was not fit enough to start and only got ten minutes.
Under Solskjaer it can be said that we have put in a handful of performances to rival anything from the halycon days of yesteryear with Sir Alex in charge. But there have a been good few to rank as the worst, too. Certainly when it comes to big games against big opposition, where United have generally done well this season, this could be the nadir as the single worst. Even accounting for City's superiority, things got ugly and there were a smattering of boos at half time.
City overloaded with diminutive technicians in midfield, an unnecessary ensemble of their embarrassment of riches and depth of squad. Pep Guardiola deployed a false nine so it was frequently five vs two in the middle. Fred and Andreas Pereira are limited anyway but soon had no chance, swamped by a sea of sky blue.
Enough has been seen of United's two hapless centre-backs Victor Lindelof and Phil Jones for Guardiola to expose them by movement and fleet of foot. Time and time and time again City's little schemers brutally punished them.
United began with encouragement but in the 17th minute, makeshift striker Bernardo Silva was given the freedom of Stretford by Fred and Jones who could only watch from close - but not close enough - quarters as he thrashed the ball home.
From then on, it was a procession. Embarrassingly comfortable to a scale not yet witnessed even in the dire depths of these dystopian days for us United fans. Players low on confidence and rumoured to be heading for the exit made for a soft underbelly and there could be no complaints at a 0-3 half time scoreline.
For the second goal, Lindelof made two errors in the same passage of play, firstly giving the ball away with a misdirected clearance and then being caught napping by Riyad Mahrez. The Swede is desperately low on confidence and the time for change in that area cannot be far from Solskjaer's aforethought.
For long periods City played at testimonial pace - an embarrassing indictment of both the quality, or lack thereof, in this United side and their increasingly apparent discombobulated mindset. It's true that there was mitigation in the players he had available, but the balance is shifting, or has already done so, towards acknowledging Solskjaer's role in things. There were clearly some injury and illness problems, but it was also as obvious that there's better options to avoid what was a catastrophe in the first half. If Solskjaer continues to persist with players that will never be good enough, even after being in their care for a year, then he must face the appropriate questioning.
Similarly, it is leaving the club open to accusations of negligence by continuing to ignore the plethora of problems in the middle of the park. Solskjaer has spoken about avoiding the wrong type of player, or signing someone simply for the sake of it. But it needn't take 600 scout reviews to scout and sign player, even if only to make a difference in the short term.
In times of need, even the great man himself Sir Alex didn't sway from bringing in a short term signing - some good, like Henrik Larsson and others not so much, like Andy Goram and William Prunier to name but two. After all, some of the league's lesser lights have dominated us in midfield this season and City embarrassment of riches only further exposed the bleeding in painful fashion.
There was a little more about United in the second half, and certainly enough to suggest there's still some pride and some fight in there. Whether that came from the manager or from within, I'm not sure, but it was always damage limitation against a side content to sit on what they had.
Nemanja Matic replaced the invisible Jesse Lingard at half-time to get hold of midfield and tighten things up. Angel Gomes made a difference: the highly rated youngster has seemingly been on the periphery of the first team for three years but looks closer to the door marked exit. He showed a glimpse of his undoubted talent when he played a part in the goal, playing in Mason Greenwood to set up Rashford to score.
There were few brights on a chastening night that was more damning than the score suggested. Perhaps Aaron Wan - Bissaka, who stuck to his difficult job gamely in his personal duel with Raheem Sterling, was the only one who could really say he emerged with credit.
That more than anything epitomises this mess.
Some individuals who could hold their heads high, but so very rarely have we looked like a cohesive team. Against City at Old Trafford on Tuesday night, we looked as far away from that description as its possible to be. As far away as we have at any time for years.