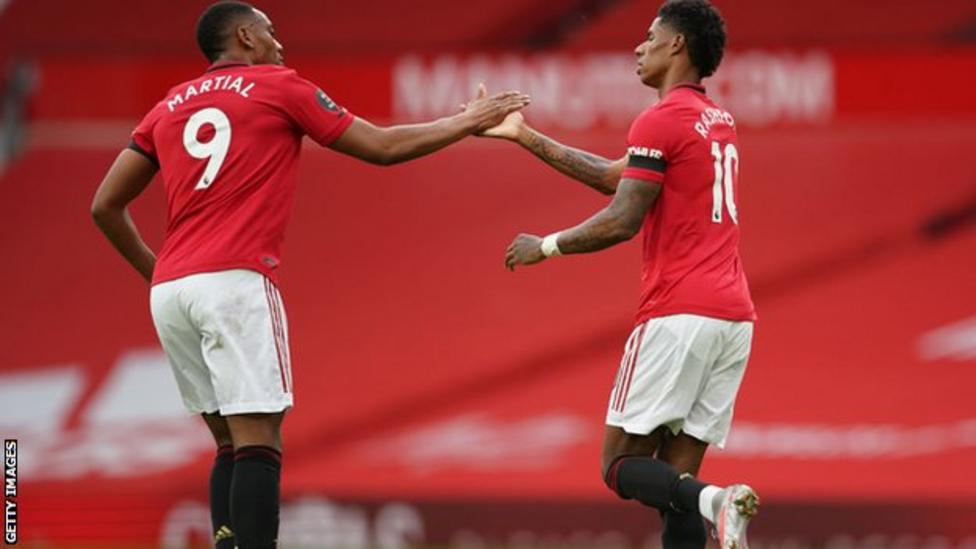 I had carried the feeling with me all day, a feeling that I couldn't shake nor rationally explain. The sense that something, somehow, was going to go wrong. Surely Ralph Hassenhuttl's Saints - a good side, but one with little to play for sat firmly in mid-table would not present too much a problem for a red hot and rampant Manchester United.
Yet there was the feeling that everything had been TOO easy, it had been all going too well and that Manchester United always do things the hard way. There had to be a bump in the road - the notion of four routine wins to cruise into the top four was too simplistic for a club defined by making life hard for themselves. United had the chance to go from the hunters to the hunted and put pressure on Chelsea and Leicester by going above them and into third. History tells us that when United are presented with such a chance, they fail to capitalise.
All this, and you can see why the nerves only intensified when Southampton started quickly and went ahead. Paul Pogba lost possession to Danny Ings, and Nathan Redmond's cross found Stuart Armstrong to slide beyond David de Gea. Sure, United had hit back emphatically from conceding the first goal against AFC Bournemouth, going to squash the Cherries and hit them for five. But this Saints side are made of much sterner stuff, they are not Bournemouth, and would not surrender so easily.
Even when United had done the normal and turned the deficit into a lead - Marcus Rashford and Anthony Martial at the double again - Saints hung around like a bad smell. Buzzing around midfield like a swarm of bees, Southampton presented a challenge that United simply couldn't get their heads around - well-organised, energetic, combative and hard working. Nemanja Matic got bogged down and strangled by the press, and United's creative heartbeats - Paul Pogba and Bruno Fernandes - never got a second on the ball.
Those two were by no means the only players in Red to have an off night. For the second game running, Aaron Wan - Bissaka was below par, Mason Greenwood was well marshalled by an excellent left-back in Ryan Bertrand and Matic looked lethargic and leggy. Greenwood came in for some rough treatment, particularly from Oriol Romeu who was fortunate to escape even a booking for a late, high lunge on the United youngster.
Only Marcus Rashford, Anthony Martial and Luke Shaw did well. Victor Lindelof had a good game marred by his error for the equaliser and no one else covered themselves in glory.
Ole Gunnar Solskjaer's decision to name an unchanged side for the fifth game in a row made sense but, in hindsight, the team perhaps needed freshening up. Certainly there must be changes for the Palace game. Scott McTominay or Fred should come in for Matic, Diogo Dalot for AWB and Eric Bailly ahead of Lindelof. Fernandes has looked fatigued but is too important to leave out. United could have a problem at left-back at Selhurst Park with both Shaw and Brandon Williams doubtful.
This was a game the Reds should have won despite not playing anywhere near our best. A de Gea punch, a Harry Maguire header or a goal-line clearance downfield, and we'd be sitting here in third place. Instead we're fifth, level on points with free-falling Leicester and one point behind Chelsea, with Frank Lampard's side currently occupying that position.
Solskjaer had a dilemma - there were some tired legs and subs needed to be made, but United's squad depth just isn't good enough and it came back to haunt us, Jan Bednarek flicking on for substitute Michael Obafemi to bundle home at the back post. Fine margins. It was a sickening sucker punch, but one that United now need to make sure does not become a knockout blow.
It was a very annoying and criminally soft goal to concede, but despite the usual over-reaction nothing has actually changed. United's fate is still in our own hands and our mission is clear - we had to win every game before Monday night and that's still the case. Three wins from these last three games and United are certain to finish either third or fourth no matter what anyone else does. Two wins and a draw could be enough. We don't have any wriggle room now or the safety net of fifth to fall back on. Where before there had been little margin for error, now there is none. This is a fight that will be fought to the bitter end and one that will go down to the wire. A season that has been played out over almost a year is likely to be decided across 90 minutes on the final day.
Leicester still have to play Sheffield and Spurs before they host United - in a match that looks increasingly likely to be a Champions League play-off. Chelsea have Norwich, the champions and Wolves and we play Palace, Moyeseh's boys and that final day showdown with Leicester.
On paper, I know which side's run in I'd rather have, but we're at that stage of the season now where every game matters and everything is on the line. United have come too far to blow this now and its squeaky bum time with three cup finals left.