Bruno Fernandes, Marcus Rasford and Paul Pogba et al may have grabbed the headlines against the Hammers, but it was one of United's unsung heroes who proved just as key.


Amidst the match-winning impact of United's big-hitting match winners Fernandes and Rashford, it was almost forgotten that Ole Gunnar Solskjaer made a third change. West Ham had yet to feel the force of the jet engine at full throttle when Juan Mata was summoned from the bench. With Anthony Martial injured, the little lock-picker was given a job he'd been tasked with so many times before - finding the key and getting his side out of trouble.
The sun may be going down on the wonderful career of this magnificent man and magically gifted player, but his star remains undimmed. There was a certain irony that Mata helped to turn the game against a side managed by David Moyes - the man who signed the diminutive Spaniard. Moyes Old Trafford tenure may have ended in ignominious failure, but the purchase of Mata remains possibly his biggest impact on United. It was the only good thing he did for us. Mata arrived in M16 too late to save Moyes from his soporific slumber, but has gone on to be a popular member of the squad and has served three managers superbly as he closes in on 300 games for Man Utd. Even when he was at Chelsea, Mata was one of very few opposition players I respected and liked. He oozes class and has an aura about him that makes him impossible to dislike.
In his nine appearances this season, Mata has played 549 minutes with three goals and three assists - a direct involvement every 110 minutes. Those stats might not seem seminal when put alongside a Bruno or a Rashford, but Mata thrives in the subtle, the artistry. So much of his best work is unseen. He is often responsible for the 'pre-assist', the passage of play where he plays the final pass to the player who sets up the goal. Mata pulls players out of position with a feint, a turn to take an opponent out the game, or nifty footwork to create space where previously there was none. Bruno may have grabbed the glory with yet another decisive display, but Mata was no less important.
Despite the fact he's 32 and no longer a regular, he still loves football, loves the game and treasures every moment as a Red.
Mata changed the game against West Ham in that under-the-radar way that only he can. Whilst he may lack pace and legs, and with age against him, the twinkle toed magician showed he's still capable of conjuring a trick or too. Mata thrives against well-organised, low block sides that sit deep and close off the channels. He's perfect to bring on against opponents that don't give you space and harry you into submission. West Ham had done that well, and although Bruno had started to hit his stride, the arrival of Mata gave West Ham something extra to think about.
Cast your mind back to the Copenhagen quarter-final in the Europa League last season. United had dominated, only to come up against a keeper channeling his inner Manuel Neuer in Karl - Johan Johnsson. With legs tiring and minds shrouded deep into extra-time, Solskjaer summoned Mata from the bench. Having slotted into a central role, Mata dictated play with his movement, ability to find space and range of passing and ultimately created the elusive winner when his probing pass led to the penalty which Fernandes - of course - tucked away. He changed the tempo and took the game away from the Danes in an instant. A vintage cameo from peak 2011 Mata, it proved he still has plenty to offer - like a fine wine, he gets better with age.
In games that are tight when you need someone to unlock things, he is the perfect player to utilise. What he lacks in pace, he makes up for in sharpness of mind and quickness in feet. Had Mason Greenwood very uncharacteristically failed to tuck away his second half chance, Mata would've had a tap in, having bust a gut to get into the box.
With the quality of the three goals somewhat casting a shadow over the equally as good build up play, Mata's part in the third goal deserves a shout out. Despite being in the twilight of his career, the affable veteran is still capable of rolling back the years.

The 5ft 7 playmaker pulled down a high ball from Greenwood on his thigh, took it under control and spun all in one movement. Mata picked out Rashford with a perfect, sizzling, defence splitting pass and the fellow substitute raced through to make it 3-1 for a goal of devastating but simplistic beauty. Had the likes of Kevin de Bruyne supplied either the assist or the finish, the nation's media would be drooling over it for weeks. The one negative of signing Fernandes is Mata's game time has been significantly reduced as a result. We all know his best position is at no.10, but United are so well stocked in this area of the team, perhaps too much so, that he has to play out wide and doesn't influence the game as much.
Even before the twin arrivals of Fernandes and van de Beek, United had Paul Pogba, Marcus Rashford, Jesse Lingard and even Andreas Pereira all competing for the no.10 role - the single most influential position in the side, given Ole Gunnar Solskjaer's preferred system and style. Mata has to play through the middle or not at all, but he's never going to dislodge Fernandes or van de Beek from that position.
Mata will always hold a special place in my heart. Although I know the day is coming, it will be a sad one when the player hang his boots up and retires, no doubt to the idyllic confines of the sunny Mediterranean.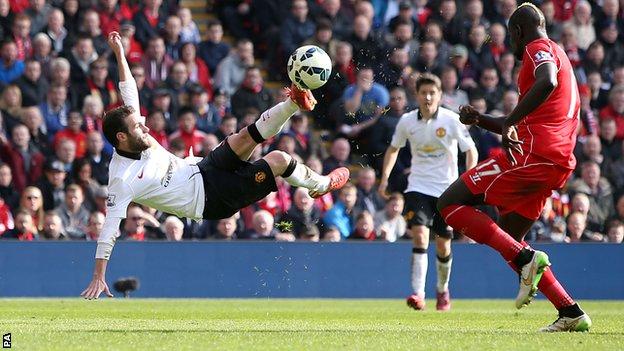 For me, there is one Juan Mata moment that stands head and shoulders above all others. 22 March 2015. Anfield. Louis van Gaal's United prevail in style thanks to a vintage team performance for the ages, one that will be remembered as arguably the best of the Dutchman's reign. A performance signed, sealed and ultimately delivered by the sight of a leaping Mata, meeting a floating Angel Di Maria ball to despatch a stunning scissor kick beyond Simon Mignolet in front of the Kop for his second of the game. That alone will always be enough to go down as a United legend. Mata's finest hour in the red of United and one that will forever be defined by a single word - Juanfield.
Bravo, Special Juan.