Just how exactly do you go from the zenith of beating Liverpool to the nadir of defeat to the basement boys in the space of four days? Ask Manchester United and Ole Gunnar Solskjaer.
Well, it was a lot of fun while it lasted. Manchester United's brief, tantalising view from the summit atop the league is - for now at least - at an end, displaced up there by a Manchester City side in frightening form.
The players have rightly been lavished with praise and plaudits in the wake of a stunning, almost three-month long unbeaten run in which we had cut a swathe through the league to rise to the pinnacle and look set for an against-the-odds title challenge.
Yet everything we had strived for, the huge strides the club have taken, all we had done to reach that point came crashing down on Wednesday. Of course, one loss does not mark the end of a title challenge, just as a winning run to put you top of the league doesn't mean you will stay there. But it's a huge psychological boost to a rampant Manchester City side, a superb team that feasts on uncertainty and inconsistency. Title winning sides don't lose to bottom of the table ones. City have the advantage now and history tells us that once they have it, Pep Guardiola usually ensures it is one they do not relinquish.
We were on top of the world after rising to the summit and then knocking Liverpool out of the FA Cup. Three days on, and the side propping up the Premier League pop up and administer a kick to the private parts. Football, bloody hell. The league has seen some crazy results - Liverpool's 7-2 loss to Villa, their 1-0 home defeat to Burnley, and our thumping at the hands of Spurs to name but three. But this one trumps all of those and more as the biggest upset of all. If a week is a long time in politics, it is an eternity in football.
Hope had turned to belief and in turn that belief turned to expectation for every win United put together. The longer the unbeaten run went on, the more we started to dream that 21 was coming. Yet all of this came crashing down in brutal and unforgiving fashion as the Blades - rock-bottom of the league with one win and five points before their trip to M16 - cut United open and exposed hidden failings to inflict a nasty and damning reality check on Solskjaer's United. Jekyll and Hyde United FC reared their ugly head again.
It was perhaps one that was needed, and we can only hope that this, indeed, is only a minor blemish. It could one of two ways. Either we'll put this result behind us and embark on another unbeaten streak or the bubble has been well and truly popped. This side has previous for this kind of thing. Remember back to when Solskjaer got the job permanently after his stint as caretaker. A side that could not stop winning suddenly forgot how to do exactly that.
One thing's for sure. I want to see the very opposite of this Manchester United when we visit the Emirates and in-form Arsenal on Saturday night. I want a reaction, a raging, red-rag-to-a-bull Reds side. I hope the players have been badly hurt by this result. I certainly have been. I'll be the first to admit I have given this side immense credit where it's due - credit for a brilliant surge of form and credit for getting into this position in the first place, extolling the virtues of our new found mentality and for showing the hallmark of champions. All true at the time, but forgotten amidst the wreckage of a sorry and soporific night at the office.
Perhaps, even deep in the subconscious, the players took their eye off the proverbial ball in a game that looked a home banker, coming as it did sandwiched between the high octane environs of totemic tussles with Liverpool and Arsenal. We can't know for sure but its come back to bite you on the arse.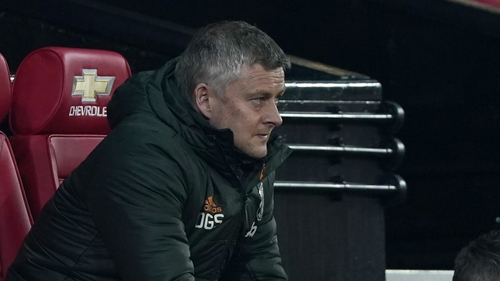 I can accept losing - it's part of the game and comes with the territory. You cannot win every game. But to lose in that fashion to those opponents with so much at stake is criminal, embarrassing and unacceptable. The manner of the loss was shambolic. The players let us down - completely lacking in desire, fight, energy, guts and character. Words I haven't had to pen for a very, very long time but ones befitting of the type of performance and result that we thought had been consigned to the history books. No pressure on the ball, no organisation, no commitment or desire to lunge in and make that tackle, win that ball - everything we have seen from our side over the past few weeks and months was bizarrely conspicuous by absence. Solskjaer should be absolutely seething.
In a way, it would have been easier to take had we lost to Liverpool - at least we could hold our hands up and admit (albeit through gritted teeth) that they were simply a level or two above us. Like the Man City defeat in the League Cup when United acquitted themselves well but fell short against a good side in a rich vein of form. Sure, it was disappointing, but you could take solace from the fact that it was against opponents capable of doing that to anyone. Not so when its Sheffield United, a side that had beaten only but Newcastle before their improbable, upside down, form book defying victory. It wasn't a smash and grab either - the Blades were excellent and, in 38 year old Phil Jagielka, had a heroic defensive performance for the ages.
Indeed, in terms of the "exploit Manchester United weakness" bingo, this was a full house. A sluggish start, frailty at the back, a continued inability to defend from set pieces and a struggle to break through a defensively well-drilled opponent who score first and sit in a low block.
There are questions surrounding the selection and substitutions. As already mentioned elsewhere - how Anthony Martial played the full 90 minutes is beyond me. Edinson Cavani should have replaced him, not Mason Greenwood, and should have come on at half-time. Donny van de Beek and Luke Shaw were thrown into the fray too late but we were already trailing. You can legitimately look at Solskjaer for this but the bare truth is, it should not have mattered whatever decisions he made. Regardless of selection or tactical decision, the team we had out still should have been enough to win that game and it wasn't. I'm at a loss to explain why.
The first goal may have been contentious with David de Gea barged out the way out of the ball by Billy Sharp, allowing Kean Bryan a clean run and header on goal. There seemed little wrong with Harry Maguire's duel with Aaron Ramsdale that saw Martial's goal disallowed for a foul. But, that aside, there can be no excuses, particularly having got ourselves back into the game through a trademark Arry' header.
Where do you even begin with the goal that turned out to be Sheffield United's winner? From Martial's failure to keep hold of the ball on halfway to Axel Tuanzebe deflecting the ball beyond De Gea, it was an absolute shitshow - a comedy of errors. Nemanja Matic failed to close down, Alex Telles was out of position and De Gea and Maguire's brain-freeze saw them forget the golden rule of defensive uncertainty - if in doubt get it out!! That ball had to go into Row Z or even for a corner. It was a goal I would be embarrassed to concede at Sunday league standard, never mind Premier League level. And we're supposed to believe this lot have a genuine shot at the title with defending like that!! There were five players responsible for the concession of the goal. It beggars belief.
We all would have settled to be in this position - one point behind the league leaders in January and still with a long way to go. But if anyone realistically thought we had a genuine chance of lifting this title, then that faint hope was surely eviscerated here.
But in a season of unpredictable results, anything is still possible. We're now going to see what Solskjaer's United are made of. If it was a test of character and cojones beforehand, it is even more of one now.
Do we really have what it takes to go for the title? Can we cope with the bitter disappointment of an unexpected setback? Do we have the resilience that champions are made of? We'll find out on Saturday at Arsenal.