As Bonnie Tyler once sang, Manchester United were holding out for a hero until the end of the night.
A year ago to the very day - 30 January 2021 - that hero duly arrived at Old Trafford and transformed the fortunes of an entire football club. Eight days hence, United had been jeered off after a wretched 0-2 home loss to Burnley that left Ole Gunnar Solskjaer clinging to his job by his fingertips on a night that anti-hierarchy tensions spilled over. The Reds were fifth in the league having suffered back-to-back defeats with a gaping 30-point chasm to soon-to-be champions Liverpool. It was clear that something, whatever it may be, needed to change.
Enter, Bruno Miguel Borges Fernandes. The fourth Red to arrive at Old Trafford from the sunnier climes of Lisbon, no-one could have imagined the seminal and seismic impact the new arrival would have - not just on the club and the team, but on us fans too.
Not since Eric Cantona has any one single player proved so impactful at United. Eric 'Le Roi' proved the final piece of the title-winning jigsaw as the mercurial and enigmatic Frenchman sparked Sir Alex's side from promising contenders into serial, all-conquering winners. Even CR7 himself took a while to settle before the full force of his talents became apparent.
Even only a cursory glance of the stats tells you everything: 51 appearances, 28 goals and 16 assists. Four Player of the Month Awards - more than Ronaldo, Thierry Henry, Frank Lampard and Alan Shearer won in their entire careers. It is unheard of for a January signing to earn recognition as player of the season, but Fernandes busted that myth too, winning the prestigious Sir Matt Busby Player of the Year award. Indeed, a case could be made that Fernandes is the greatest Premier League January signing of all time. So much more than simply a penalty specialist, Fernandes has continued to prove himself as the string-pulling heartbeat of Manchester United.
For context, only the best three players on the planet - Cristiano Ronaldo, Lionel Messi and Robert Lewandowski - have better stats across Europe's top five leagues in the last 12 months. No one has taken more Premier League points than us since the arrival of the metronomic, string-pulling playmaker.
It is difficult to put into words exactly the extent of the difference Fernandes has made - an impact embellished further by several soporific years of Andreas Pereira and Jesse Lingard, to name but two, proving so incompatible in the no.10 position. Marcus Rashford, Anthony Martial and Juan Mata had all been tried there as United attempted to plug the gap with square pegs in round holes. Whilst few of us had even heard of Fernandes, never mind see him play, he quickly became the man we never knew we needed.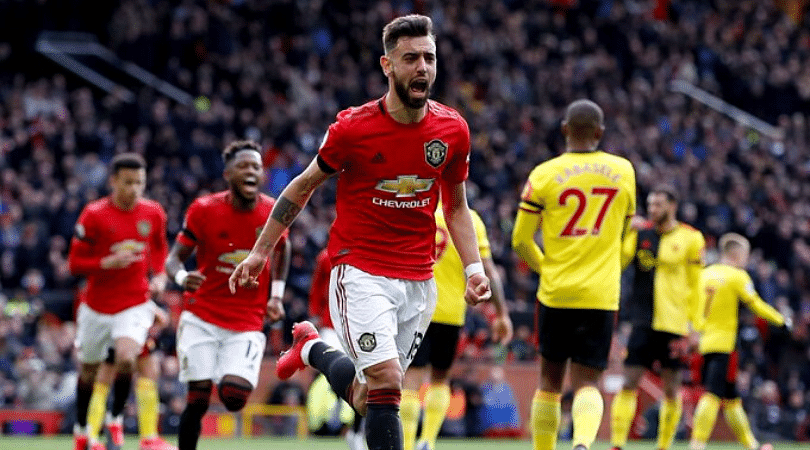 In short, he offered us everything those players# either don't or can't. Not only adept from set-pieces, his box-to-box link play, work rate, direct running, passing range and ability to drive us forward, to set the tempo and dictate the play, often arriving into the box at the just the right moment, is reminiscent of Paul Scholes in his prime. That's before you even begin to consider his professionalism and leadership qualities.
Fernandes carries the air of a player born to don the iconic Red shirt, and plays as if he has a magic wand concealed in his shinpads. With a sprinkling of stardust and a monster mentality, his United career was only 90 embryonic minutes old before he got his own terrace chant. Us lot can be hard to win over, but our new love caught our eye within moments. When he shushed Pep Guardiola in the derby - Old Trafford's last match in front of fans - we had completely taken Fernandes to our hearts.
In the words of Tyler - he's gotta be strong, and he's gotta be fast and he's gotta be fresh for the fight. There haven't been enough characters at United in the last few years but Fernandes refuses to accept anything less than 100% from everyone around him. Harry Maguire may be the official skipper, but you feel Fernandes is United's captain in all but name.
I've never felt as sure about anything before as I have in my conviction that this man - our hero in the no.18 shirt, will go on to become an Old Trafford legend and potentially one of our greatest ever.
Bruno, Bruno, Bruno, came from Sporting like Cristiano..