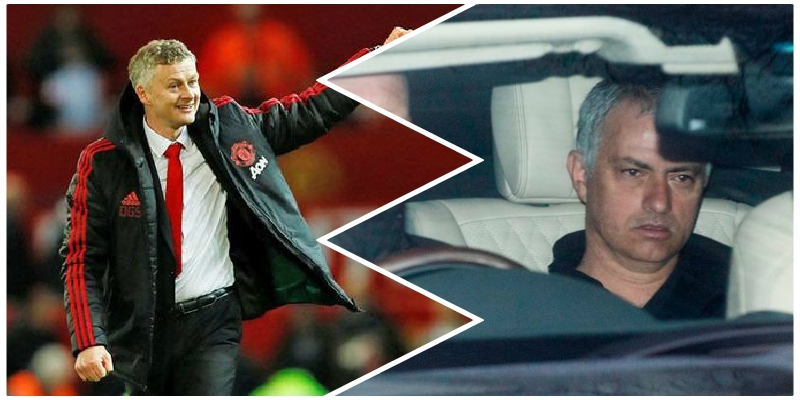 A penny for José Mourinho's thoughts right now. What must he be thinking watching this supercharged, re-energised and resurgent Manchester United side? A cavalier United team that have offered a glorious throwback to the iconic and halcyon days of yesteryear, free from the trouble and strife left behind by the departed Portuguese.
In front of the watching Sir Alex Ferguson – 77 today – United were everything we wanted – but failed to be – under Mourinho. This was a performance in which the Scot would have been proud. The type of showing that he was synonymous with and one that became United's trademark for a quarter of a century on his watch. It was almost like he was there in the dugout, such was the relentless, poetry-in-motion swagger that the Reds overwhelmed Bournemouth with. Fast, fluid, ruthless and rampant. In the ascendancy from the off, feet only came off United pedals with the flash of Lee Mason's red card to Eric Bailly eleven minutes from the end.
Only Sir Matt Busby and Mourinho himself have won the opening three matches of their spells in charge, but neither of the decorated coaches have completed the streak with quite the same level of entertainment as Solskjaer has already imprinted. The style, the tactics, the mentality, the belief and the feeling around the club – the difference between Ole's effervescent United and the torrid tenure of the moribund Mourinho is night and day. Chalk and cheese. Fire and ice. Just about any other sublime-to-the-ridiculous comparisons you can think of.
Across the trio of games against Cardiff, Huddersfield and Bournemouth, United have plundered 12 goals, conceding three, having been given a new lease of life under Solskjaer. We most likely would have won all three under Mourinho but the difference comes in how we're doing so.
In the multimillion-pound industry that football has become, substance is often put ahead of style to ensure that competitors keep up to speed and ahead of their rivals. The job of a Manchester United manager is to marry those two seemingly incompatible elements together. So far, Solskjaer has done so to perfection. After Mourinho's famine has come Ole Gunnar's feast. He is making this management lark look easy. Mike Phelan – a man who knows this club like the back of his hand, should never have been let go when Sir Alex left and David Moyes came in. It is his return that has had a massive impact on the rediscovery of United's missing-in-action DNA.
Marcus Rashford's injury time winner saw the Reds squeeze past the Cherries in the reverse fixture, whilst United discovered the Terriers nasty bite away from home last term. Scores of 5-1, 3-1 and 4-1 – albeit even against fodder – used to be a routine business for a Manchester United side in the dominant days of yesteryear but these are different times and under Mourinho it was anything but.
His record against the league's lesser lights was poor. This is still a side with flaws yet to be exposed, but we deserve a bit of enjoyment after everything that's been before. Life as a Manchester United fan is fun and enjoyable once more and I look forward to watching us again now.
In Busby's maiden campaign at United he won his opening three games, with the team scoring eight times, while Mourinho's side yielded six goals. The run is also the first time United have netted 12 goals across any three-game run for seven years.
What must Mourinho be thinking seeing the rampant and rejuvenated Paul Pogba at his destructive and bullying best – a player, like many of his team-mates, transformed after just a few short weeks under the arm-around-the-shoulder management of United's new caretaker boss. The very same Pogba that Mourinho spent £89 million on and failed so miserably to get the best out of has now spread his wings and emerged from the cocoon that he has been trapped and entombed within for the past two and half years. And how. He is a free-spirited enigma, at his best when given licence to roam. When given a restrictive role, Pogba loses his edge. At Juventus, he had the metronomic Andrea Pirlo alongside him allowing him to rampage forward at will. There is of course, no such luxury at Old Trafford, but Solskjaer's message has been simple: go out, express yourselves and play for the fans, the badge and the club you represent. How refreshing that we finally have a manager who simply "gets us" as a club.
Mourinho called Pogba a 'virus.' It is now, indeed, alarmingly clear who the real virus was. For anyone who may not have worked it out yet: he is not in the dressing room any longer. United have been cleansed, cleared and are well on the road to recovery. There will undoubtedly be some bumps in the road, some re-opening of old wounds, but for now the adhesive plaster has been applied and the symptoms have gone. A cloud has been lifted and Solskjaer's megawatt glow has lit up the place.
United are brimming with confidence and have won three straight Premier League matches for the first time since March. As 2019 rolls around, it brings the prospect of a brighter future where there once appeared none. Even the tangible, ever-growing threat of a Liverpool title triumph cannot temper the newly found positivity flowing around Old Trafford.