This was humiliation for Manchester United - plain and simple. Painful and bitter. The powers that be of this great club, this global institution, must take action. Now. Ed Woodward and the Glazers have to heed the message sent out loud and clear by yesterday's brutal capitulation. There is nowhere else to go with this, it's the final straw. What justification can there be any more for keeping faith in a manager who is finished, past his sell by date and a shadow of his former self? How anyone can back this man any more is beyond me.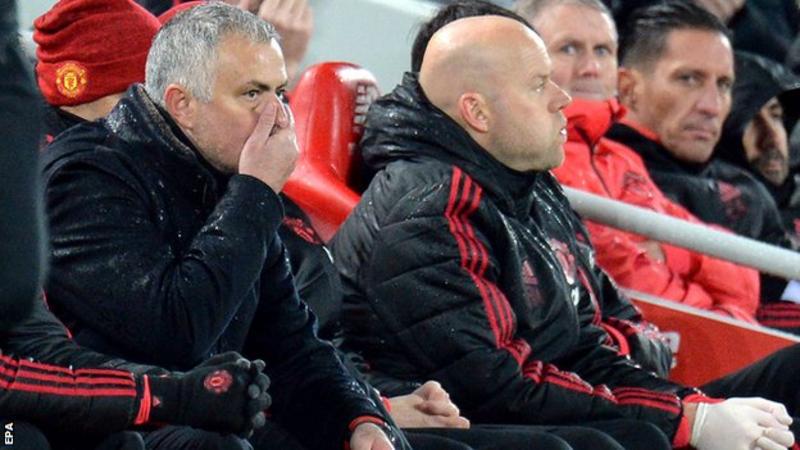 Jose Mourinho is a shell. Much like this pathetic excuse of a side he is currently residing over. Mourinho is a pale imitation of the man he used to be. Brought to United to evolve us into title contenders - make us challengers at the very least, if not champions, he has failed miserably. First season aside, the man has failed on almost every level. The board's decision to give him a contract extension, in the knowledge of his infamous three-season cycle that we're now seeing before our very eyes, was delusional, naive and beggared belief. Indicative of a club in crisis, run by people with not an ounce of football knowledge between them. If defeat - no, embarrasment - at the hands of our most hated rivals does not open their eyes and force them to take action, nothing will.
Let's not forget that yesterday was far from a result in isolation. 36 days ago we made the trip across town to the Etihad and waved the white flag even before a toe was planted in enemy territory. Things did not seem as though they could get worse than a bruising at the hands of Pep Guardiola's City slickers.We were wrong. That was merely the start of a public and prolonged disrobing that has seen United caught with their pants pulled around their ankles, handed out lube and invited the world to get on and have a ride.
Like yesterday, that game ended 3-1 and, also like yesterday, it could and should have been much worse. Surely it is impossible for any Manchester United manager to survive a battering at the hands of our two most hated adversaries twice in the space of five weeks.
Anfield is a hard place to go, and we certainly won't be the last side to come out of there on the end of a hiding this season, but we made no attempt to even lay a glove on them. Where Liverpool were ruthless, United were toothless and useless. 19 points already. There is not a gap between the Reds of Manchester and Merseyside at this point in time - it is a gulf.
From start to finish it was an unacceptable shitshow. The tactics - if you can call it that - were abhorrent. To sit back and park the bus, then put Marouane Fellaini on at half-time and go long. This alone makes it a sackable offence but that is what we now are. Nothing more than Stoke City 2009.
Juan Mata, Paul Pogba and Anthony Martial - £169m worth of talent and three players to have kept Mourinho in a job back in October. Yet our most creative player, best midfielder and top scorer were left on the bench. Martial and Mata did not come on until the game was lost and Pogba was never seen at all. It looks like the end for Mourinho's £89m man, a player he has man-managed awfully and failed spectacularly to get the best out of.
There's nothing there now. Nothing. Mourinho got taught a lesson by his opposite number Jurgen Klopp - a man who has unpalatably turned our fiercest and most hated rivals into everything we used to be - dynamic, powerful, aggressive and brave. Liverpool were brimming with bright ideas, greater agility and ability, ambition, mobility and sharpness. United seemed merely intent to stay in the game and try to play for a mistake from a side that made very few. It was never going to happen. This simply cannot go on yet the worse thing of all is that it will. United won't sack Mourinho. The powers that be will believe that he can turn things around despite overwhelming evidence to the contrary.
Liverpool are going places under Klopp. United under Mourinho are going in completely the opposite direction. He's got to go, there is simply nowhere else to turn.