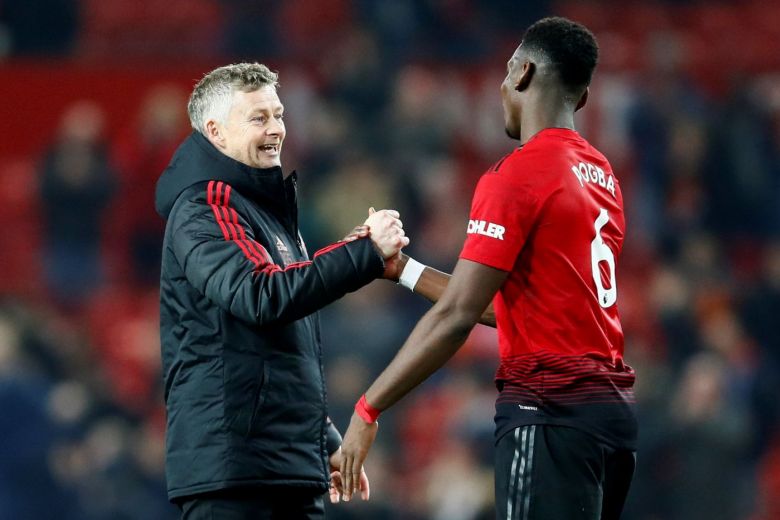 Ole Gunnar Solskjaer's Manchester United renaissance is gathering pace but, despite two wins from the two games of his temporary tenure, there remains a lot of work to do for the interim United boss between now and May.
The Reds are like the best ever laptop money can buy. With José Mourinho, United were the best laptop with the AC adapter permanently plugged in. It's only going to go ten metres or, if you keep on the move, it will run out of battery and die. With Solskjaer, we're still the best laptop but it can be taken anywhere. It's portable, wireless you can show it off and take it on a world tour. Night and day.
United should not be judged on performances and wins against Cardiff and Huddersfield – two sides who will be relegation fodder and sides that the rest of the other top six clubs should be beating with eyes closed. But even so, there have been huge signs of improvement.
Fix the defence
Only three clean sheets from 26 games in all competitions remains a huge concern. Although the defenders – Phil Jones and Victor Lindelof in both of Solskjaer's first two matches – appear to be playing with a bit more confidence, the former instills none of the latter whatsoever. Playing Jones is like going away for the holidays but later realising you've told everyone you've left your house unlocked and the door open.
Solskjaer has said that every player will get a chance in the coming weeks as he continue to learn the qualities of his new squad. Rui Faria, Mourinho's long time assistant, left in the summer and contributed to José's eventual downfall. The Portuguese did a lot of the defensive work and analysis, and perhaps United are suffering from the absence of a coach to specifically work on drilling the defence. It must become Solskjaer and Mike Phelan's number one priority.
Making the team fitter is also a must
It's no secret that, under the previous regime, the Reds were statistically the laziest team in the league. Every team bar Fulham had outworked the Reds and the players looked out on their feet every time they tried to press. Some players have looked exhausted after 30 minutes – that is how unfit this team are. Solskjaer won't admit it, but privately it must be a huge concern to have inherited a team that tire so easily.
For a Manchester United side to be so deficient fitness-wise is criminal, as Solskjaer himself said: "No Manchester United team should ever be outworked." This was, I think, partly due to Mourinho's stifled and strangulating set up, expanding the bare minimum of energy levels by sitting back. The team outworked Cardiff and also ran further than Huddersfield. Solskjaer has been far more fluid, switching between 4-1-4-1, 4-3-3 and 4-2-3-1. The key to United's success so far under Solskjaer has been the pressing, counter-pressing and fluid attacking play. Solskjaer has asked the team to press high up the pitch and disturb the opponent early. The signs are good but there is a long way to go and tougher tests on the horizon.
Continue the upward trajectory
Granted, Solskjaer has 'only' faced the fodder of Cardiff and Huddersfield, but he didn't decide the fixture list and can only beat what is in front of him. He has done so emphatically. It's not so much about the scorelines of 5-1 and 3-1, but about the style of play and the newly found confidence and belief. There are tougher tests to come, with Newcastle and Tottenham away in the coming weeks a far more sterner examinations of credentials. Not to mention the daunting looking obstacles of Arsenal, Liverpool, Paris Saint-Germain and City in February and March. But that's in the future. Solskjaer couldn't have done anymore to get United back on track at the minute. United were battered and broken when he arrived but have now started to climb off the canvas. We need to put a winning run together and keep this early momentum going
Faith in 'da yoof'
I've got nothing against Marouane Fellaini. But you can't help but feel that had Mourinho still been in charge, he would have turned to the substitute Belgian as his go-to default setting again vs Huddersfield. But one small decision showed that, in OGS, we finally have a manager and a man that "gets us." In giving 18-year-old Angel Gomes nine minutes from the bench, he showed more intent and ambition in two weeks to tap into one of this club's greatest traditions than his predecessor did in two-and-a-bit years. The one young player that Mourinho consistently put his faith in was Scott McTominay, who has not been seen since the former manager's sacking.
Lack of development in youth players was given as one of the reasons for Mourinho's sacking. He played a plethora of the next generation of Manchester United talent on last summer's pre-season tour, but – as ever – that now looks to have been merely the making of an elaborate point rather than any tangible attempt to blood youth once the serious stuff got underway.
Mourinho may have named United's youngest ever Premier League XI on the final day of his first season in charge but that was out of necessity when he had effectively given the league up in pursuit of Europa League glory. It was the exception and not the rule. The FA Cup tie with Reading gives Solskjaer the opportunity to try highly-rated Academy starlets such as James Garner and prolific youth team player Mason Greenwood.
Make United four-midable
What does Ole Gunnar need to do to make the club's hierarchy consider him for the permanent job? Has he been told there's a chance he could get this if it goes well? If he can get fourth place – or even miss out by one or two points – from this position then it's surely impossible to ignore him when it comes to appointing Mourinho's 'full time' successor.
Don't forget that this season was our worst ever opening to a Premier League campaign. Top four, putting up a fight vs PSG and a shot at a 13th FA Cup and the gig is yours, Ole! Eleven points off Arsenal two weeks ago, United are now breathing down the necks of Unai Emery's side. The gap to fourth placed Chelsea sits at eight – improbable and unlikely but it no longer looks insurmountable. But more important than the results is restoring the positivity as well as United's identity and image. All Ole, the team and Messrs Phelan, Carrick and McKenna can do is keep winning and let other results take care of themselves. This could be the longest ever job interview for our caretaker (perhaps next permanent) manager…