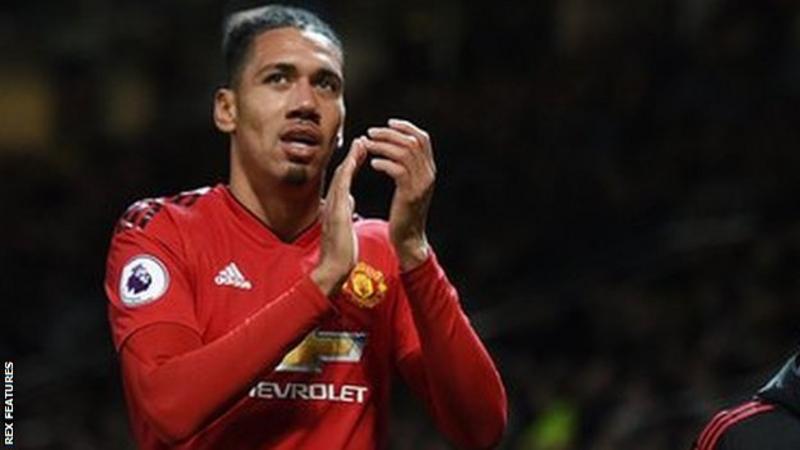 Look at the state of us. We all know Manchester United are a mess - you don't have to work for NASA to figure that out - and our already embarrasing season plunged to new depths on the eve of United's trip to Anfield.
The news that Chris Smalling - a man literally stealing a living as a player that gives us all hope of becoming a professional - has signed a new deal at the club until 2022, with the option of a further year.
Impossible as it may seem, Smalling has somehow survived nine seasons here already and this contract would take him to a testimonial year and beyond. Even more improbably, it would see Smalling outlast the Man Utd careers of four of this club's greatest ever centre-backs - Steve Bruce, Gary Pallister, Rio Ferdinand and Nemanja Vidic. All were totemic and titanic defenders in two of our greatest ever sides, yet all have had shorter Old Trafford careers than a man who is merely a mid-table Championship player at best. Bruce and Pallister both plied their trade at Old Trafford for nine years, Vidic for eight and Rio for ten. Smalling will have reached 12 seasons in Red by the time his next contract is up. Let that sink in. 12 seasons for a man who I have to watch through my fingers for fear of calamity. A player who I find impossible to fathom how he's still here - but then he's far from the only one when it comes to that.
Does this really come as a surprise given the board's penny pinching and the cloud cuckoo-land admission of Ed Woodward that the likes of Smalling are better defenders than Jose Mourinho's vetoed summer targets of Toby Alderweireld and Harry Maguire to name but two. His new deal merely confirms what we've all known for a while - that we are a club that is either unwilling or unable to clear out the dead wood (there's as much dead wood in this squad as there was at the original Viagra trial) and rewards bang average players who simply aren't good enough with ridiculously long contracts. A club happy to settle for mediocrity. You can't blame Smalling - he plays every week, he's stealing a living on a wage so massive that he's unwilling to take a pay cut to ever be sold or moved on.
Without being too harsh on Smalling, he isn't - and never has been - a good enough player for this club. It's beyond comprehension how four Man Utd managers from Sir Alex Ferguson to Jose Mourinho via David Moyes and Louis van Gaal - have failed to realise that. Ferguson can be excused to a degree as Smalling came from Fulham with potential, and with Messrs Rio and Nemanja at the peak of their considerable powers - he was only ever a squad player in his first few seasons. He had one solid season in 2016 under LVG, but he's too error prone and has continually flattered to deceive.
Smalling may have volleyed the winner at the Etihad and repeated the feat at Vicarage Road this season but that should not mask his failings. He's slow, has no positional sense, can't pass, is clumsy and a liability. Granted, he's a marginal upgrade on the hapless Phil Jones and rubbish Marcos Rojo but that's hardly an achievement. Certainly not one befitting of a new deal - a new deal that he has done nothing to deserve.
He's a player that should have been sold with the squad's evolution but instead his current situation has come to eptomise the shambles that is the modern day Manchester United.