"A method in my madness."
A line emanating from the days of William Shakespeare, to mean there is often a plan behind a person's apparently inexplicable behaviour. Added to one of my favourite sayings - "the definition of insanity is doing the same thing over and over again and expecting a different result", it describes Manchester United's current situation to a T.
But if there is indeed a method to the madness of Jose Mourinho, then I have no idea what it's supposed to be.
Brutal at Brighton, spanked by Spurs, woeful against West Ham and Wolves, dreadful defeat to f******g Derby and that's before we even mention the Manchester City game and yesterday's embarrasment. An awful style of football more akin to the schoolyard and team selections that seem like Mourinho has thrown a tin of Quality Street in the air and picked the nearest eleven sweets to fall into his lap.
That's discounting his favourites - the Purple One, the Strawberry Delight and the Caramel Swirl, the sweets that resemble Romelu Lukaku, Nemanja Matic and Marouane Fellaini that, no matter how unfit for purpose, how sour they taste, will get selected week in week out.
Yet apparently it's never his fault.
Does this man ever learn? He keeps on making mistakes and aberrations that border on the criminal yet somehow continues to ply his trade in the Old Trafford dugout. Why? Why is he doing the same thing in the same way every week and being allowed to get away with this. It is completely unacceptable but there's no accountability. Mourinho is an extremely intelligent man but he's acting like an idiot. It makes you wonder if he's doing so deliberately just to annoy everyone and to prove his own point as a show of one upmanship to the board.
On the 29th September, United went to a winless West Ham side - a team still finding their feet and scratching around at the foot of the table under new manager Manuel Pellegrini. Mourinho sent United out in a weird 5-3-1-1 mish mash with Scott McTominay in a back three and Marouane Fellaini and Nemanja Matic plodded out ahead of them. A back five with two defensive minded midfielders sitting - almost literally - in front. An immobile, sluggish and pedestrian land of the giants XI that probably resembled the biggest football team ever assembled by a Manchester United manager. The team had no width, no balance, no spark and no movement. Paul Pogba, the only man with a semblance of creativity, was anonymous that day.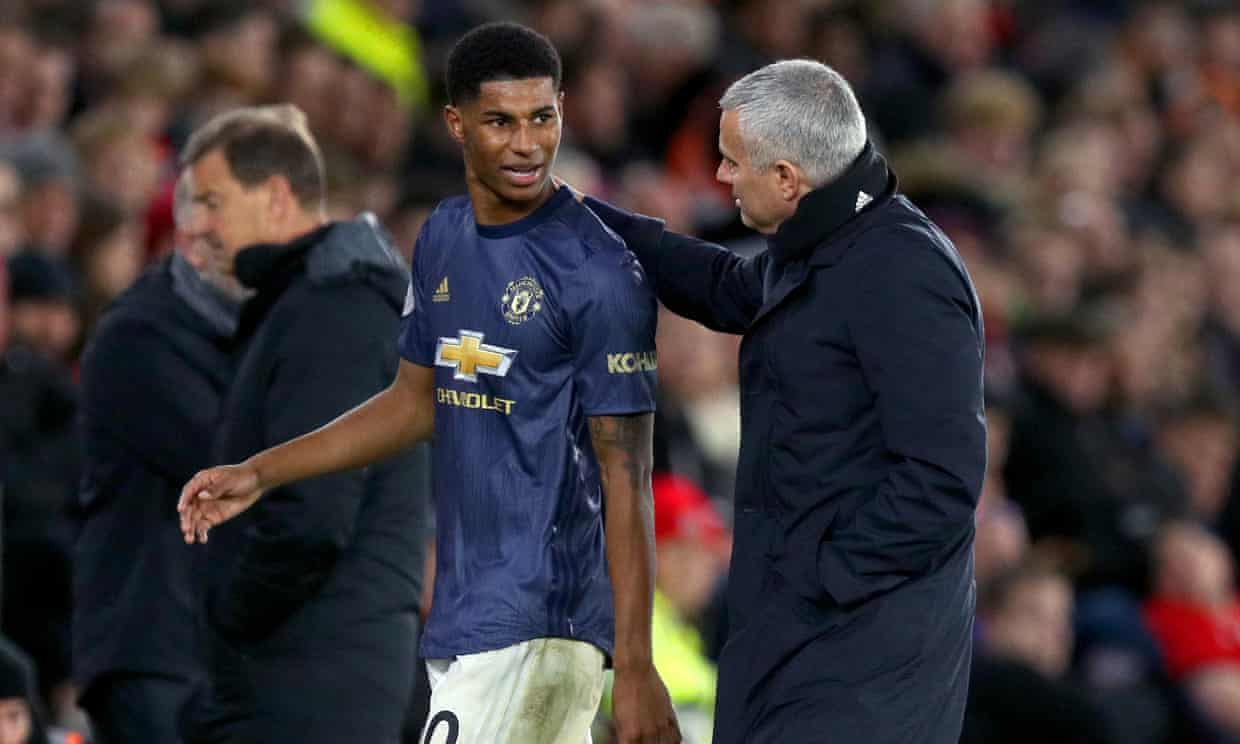 At City last month, even though Mourinho's hand was forced by injury to Pogba, he effectively waved the white flag and allowed his opposite number Pep Guardiola to pull down his pants, bend over, climb on and have a ride - it was a botch job which we all saw coming as soon as the team was announced.
Fast forward to yesterday at Southampton. The Saints are in an almost identical position to where West Ham found themselves on that September day. Yet Mourinho repeated this nonsense. I genuinely don't know what goes on in this man's head.
A team second from bottom of the league, one that got smashed into pieces by Manchester City a few weeks ago and a club with one win at St Mary's in the entirety of 2018. Southampton had shown the world how bad they are at present. Manchester United, otherwise known as Banter FC, did the same with another 90 minutes of utter madness.
Mourinho again decided to play with a back three - consisting once more of McTominay, alongside Phil Jones and even more peversely, Nemanja Matic with wing-backs and a jumbled, incoherent midfield with zero width. Marouane Fellaini and Ander Herrera had unclear roles, the players were clearly at odds with an incompatible system that looked as though it had never been worked upon. There was no creativity and Romelu Lukaku and Marcus Rashford were chasing shadows. It was nothing to do with a change of tactics - rather two moments of magic from Rashford - that earned us a point we barely deserved. Mourinho gets no credit for this one. Everything is in spite of him, not because of.
Anthony Martial should have started and came on too late, and Lukaku despite his goal was useless again. He injured himself after falling over the ball. That is now four points dropped out of a possible six against bottom half fodder inside a week. When was the last time we dominated a game, and, when we do win, it's through individual brilliance not managerial genius. Think Martial against Chelsea, Rashford at Bournemouth, Pogba vs Newcastle and Juan Mata in Turin.
It's true that there may not be many heavyweight men who would be open to manage a team like Manchester United currently, but what is sure is that none would sabotage a season this way with such dull, uninspired performances and would actually bring more out of the players. Even 10% more.

Jose Mourinho has turned into a pragmatic monster. And there is no coming back for him. The only way he is taking United is down.